Business Info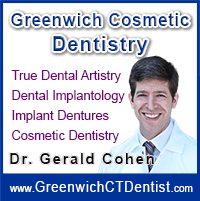 Greenwich Cosmetic Dentistry
40 W Elm St
,
Greenwich
,
CT
06830
Phone: (203) 869-2659
URL: https://www.GreenwichCtDentist.com Google Map
Hours:
Payments: all major credit cards (Visa, American Express, Master Card, Discover) cash, checks.
Insurance: Dr. Cohen is not an in network provider for insurance. Financing available..
Greenwich dentist, Gerald Cohen, DDS and Greenwich Cosmetic Dentistry provide family, cosmetic and restoration dental services: Veneers, crowns, implants and oral plastic surgery. Our on-site dental lab allows use to create the perfect match of restorations to complement your natural teeth for a beautiful smile.