Business Info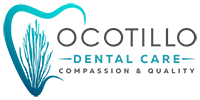 Ocotillo Dental Care
Phone: (480) 855-1994
3165 S Alma School Rd, Ste 26
,
Chandler
,
AZ
85248
URL: https://www.ChandlerDentist.com Google Map
Hours:
Payments: Visa, Master Card, cash, checks, and Care Credit.
Insurance: All insurance plans accepted.
Chandler dentist and dental implants specialist, Dr. Jeffrey S. Garelick, DDS, and Ocotillo Dental Care provide complete cosmetic and family dental care. Services include: General Dentistry, Dental Implants, Implant Retained Dentures, Porcelain Crowns, Porcelain Veneers, Dental Whitening, Family and Preventative Dentistry.